Randy Cardoza
Consultant, The Chason Group
Randy Cardoza has 38 years of economic and community development experience at the local, regional and state level. He served as Commissioner of the Georgia Department of Economic Development for ten years under three governors. Prior to being named Commissioner, he was Deputy Commissioner for Economic Development for over three years.

Most recently, Randy was Managing Director of Economic & Community Development for AGL Resources, a major natural gas utility company. He served in that role for over eight years before retiring in March, 2012.

Since retiring, Randy is focusing on economic and community development projects for communities. He served as Interim Executive Director for the Industrial Asset Management Council from October, 2013-September, 2014.

He is past president of the Georgia Economic Developers Association as well as the recipient of the distinguished Rip Riley Award for Professional Excellence and an Honorary Lifetime Member of the organization. Randy is also a graduate of Leadership Georgia.

Randy enjoys spending time with his family and playing golf in his spare time.

Randy is a graduate of East Tennessee State University and the U.S. Chamber Institute for Organizational Management.
Tim Chason
President, The Chason Group
Tim Chason serves as President of The Chason Group which was formed in 2003. The company specializes in executive level searches for companies and non-profit organizations, strategic visioning plans, coordinating relationship building strategies, and building operating structures.

Tim has over thirty years of experience in the business and non-profit world. His professional career began in 1983 when he was selected to serve as the President of the Cartersville-Bartow County Chamber of Commerce in Cartersville, Georgia. In 1993, Tim was tapped to join the Georgia Chamber of Commerce team as Senior Vice President of Economic Development and promoted to Chief Operating Officer in 1996. From 2007 – 2013 he served as Executive Vice President of Callaway Gardens Resort near Columbus, Georgia.

He attended Abraham Baldwin Agricultural College (ABAC) in Tifton, Georgia and the University of Georgia, where he graduated with a Bachelor of Arts in Journalism degree and a Master of Public Administration degree.

​Tim is a member of the Cartersville City School Board and former member of the Board of Directors for North Metro Technical College (now Chattahoochee Technical College) in Acworth, Georgia on two occasions. He is a graduate of Leadership Georgia, Class of 1991, and currently serves on the Board of Directors of the Georgia Chamber of Commerce. He is a former member of the Board of Trustees for the Professional Association of Georgia Educators Foundation.
​Tim's family is extremely important to him. His wife is the former Lynne Jonas of Brunswick, Georgia. A retired educator, she now owns and operates a business named Left Handed Originals. Tim and Lynne's daughter, Kelsey, is a 2013 honor graduate of the University of Georgia and Mercer University School of Medicine. She is an emergency room doctor at Erlanger in Chattanooga, Tennessee.

​The Chasons are members of Cartersville's Sam Jones Memorial United Methodist Church.
Drew Davis
Co-founder at Half Machine
Walt Farrell
Manager Statewide Economic Development, Georgia Power
Given Walt's accomplishments in business recruitment, his recent move into the role of Manager of Statewide Economic Development for the Georgia Power team comes as no surprise. Walt oversees the team and supports the facilitation of site-selection, start-up, and expansions of businesses investing in Georgia. From identifying potential buildings or sites, providing market evaluation and engineering assistance, hosting companies on their visits to the state, and serving as liaison between those companies and governmental agencies. Before joining Georgia Power in 2015, Walt served as a Director of the Advanced Manufacturing team at the Georgia Department of Economic Development (GDEcD). There he was responsible for recruiting domestic and international companies to Georgia, leading tax incentive negotiations on Georgia's behalf, and generating new industrial leads statewide. He was also responsible for the Georgia Ready for Accelerated Development (GRAD) Program, the state's industrial site certification process, while working at the state agency. Walt specializes in the automotive, aerospace and defense industries. Prior to his work with GDEcD, Walt spent four years on the Business Development team at Electric Cities of Georgia.
Walt currently serves as the Business Recruitment Chair for the Georgia Economic Developers Association and is the sitting Vice Chair on the Georgia Lottery Corporation's Board of Directors. He's a member of the Georgia Economic Developers Association, NAIOP Commercial Real Estate Development Association, and serves on the Industrial Asset Management Council (IAMC) Volunteer Service Committee. Walt is also a graduate of the 2015 Leadership Georgia class.
A homegrown Georgian, Walt grew up in Marietta. He earned his Master of Business Administration degree at Auburn University, and holds a Bachelor of Science in Finance and Marketing from Clemson. He and his wife, Emily, recently welcomed a second daughter to their family, and live in Atlanta. Walt considers himself an enthusiast of golf, running, and Netflix- and not necessarily in that order.

Derreck Kayongo
Entrepreneur, Global Soap Project Founder and Former CEO pf the Center for Civil and Human Rights
From Ugandan refugee to successful entrepreneur, CEO, and renowned human rights activist, Derreck's journey inspires audiences to dream big. Through personable and articulate storytelling, he shares his visionary ideas for harnessing the power of observation and creative problem solving, applicable to any organization or community. It's all about taking responsibility while looking for opportunities to improve.
Derreck is the founder of the Global Soap Project: a humanitarian aid organization that collects discarded and unused soap from thousands of hotels worldwide, reprocesses it, then distributes it to in-need populations around the world. The project was born from his simple observation about how much soap is available in hotels, and how much is thrown away when hotel rooms are turned. This simple observation became an innovative idea that is now battling global health issues in 90 countries. Hygiene-related diseases, and the resulting deaths, have dissipated in many at-risk communities, thanks in part to Derreck's creative problem solving.
His energy and enthusiasm are unmatched as he brings his stories and principles to life. Key factors of his personal and professional success are identified with the memorable acronym S.E.L.F.: Service, Education, Leadership and Faith. He calls upon his dynamic experiences to empower audiences, inspiring an entrepreneur spirit made possible only through creative problem solving. Derreck's emotionally-packed presentations linger long after his speech, empowering audiences to invent their own self-made motto of success so they can create tangible change in the world.
Derreck's passion for helping others and commitment to innovative thinking led him to the role of CEO of the National Center for Civil and Human Rights. During his time as CEO, he elevated the global visibility of the Center, showcasing stories of victims of civil rights abuse and the heroic actions that changed the course of history.
Derreck Kayongo is an internationally recognized visionary and humanitarian. The Global Soap Project demonstrates his creativity and innovation, making him a leader in both global health and environmental sustainability.

Dr. Walter Kemmsies, Ph.D.
Managing Director, Economist, Chief Strategist for JLL's US Ports Airport and Global Infrastructure
Dr. Walter Kemmsies, Ph.D., has been Managing Director, Economist and Chief Strategist, Ports, Airports & Global Infrastructure of Jones Lang LaSalle Incorporated since April 7, 2016. In this role, Dr. Kemmsies executes initiatives for public and private sector clients who have interests in or properties proximate to seaports and airports throughout North America. He has professional experience working in Europe, Latin America and Asia uniquely that qualifies him as a global trade economist.He dedicates a significant amount of effort working with the agricultural industry, by directing research at Rutgers University for the US Department of Agriculture, advising food production companies on international business strategy and participating in conferences for the Soybean Transportation Coalition, Agricultural Transportation Coalition (AgTC) and National Grain and Feed Association (NGFA). He advises several major U.S. Port Authorities and is routinely asked to work on complex issues with various investment banks, private equity firms and public regulatory agencies. He provides substantial support to the freight movement industry via a monthly column in American Shipper, presentations at major international industry conferences, and advising the US Department of Commerce on supply chain competitiveness. He testified to the US Senate Transportation and Commerce Subcommittee on issues affecting the freight industry. He has also published research in scholarly journals. He served as the Chief Economist of Moffatt & Nichol, Inc. from 2006 until April 2016. Dr. Kemmsies served as Head of European Strategy and European Equity Strategist at JP Morgan Chase & Co, Research Division. Dr. Kemmsies served as Equity Analyst of UBS Investment Bank, Research Division. He is an advisor to the U.S. Department of Commerce Advisory Committee on Supply Chain Competitiveness and the Department of Transportation's National Task Force on Transportation Infrastructure Valuation. He is a member of the Council of Supply Chain Management Professionals, National Association of Business Economists, and International Association of Energy Economists. He holds a Doctorate degree in Economics from Texas A&M University, a Master of Arts in Economics from Florida Atlantic University, and a Bachelor of Arts in Economics from Florida Atlantic University.
Misti Martin, CEcD
President, Cherokee Office of Economic Development
Misti Martin is a native of Georgia and has been in the Chamber and Economic Development field for over 25 years. She has served as the President of the Cherokee Office of Economic Development since 2004.
In the 1990s, Martin worked for the Cherokee County Chamber of Commerce & Development Authority and the Carl Vinson Institute of Government at the University of Georgia. She served as President & CEO of the Covington-Newton County Chamber of Commerce in east Atlanta from 1998-2004 before returning to Cherokee. Ms. Martin graduated from the Terry College of Business at the University of Georgia and earned her MBA from Troy University. She is also a graduate of University of Oklahoma's Economic Development Institute (EDI) as well as the Institute for Organization Management at the University of Georgia.
Misti has held numerous positions on state boards for Chamber and Economic Development organizations, serving as Chair of the Georgia Economic Developers Association in 2012. She earned her Certified Economic Developer status from the International Economic Development Council in 2000 and has also been featured as one of Georgia Trend Magazine's "40 Under 40" and as a "Notable Georgian." Martin was recognized as one of the "Top 50 Economic Developers in North America" in 2016.
Misti is married with three sons.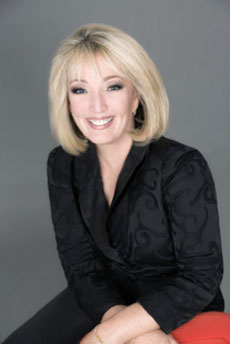 Kate McEnroe
Analyst, Advisor, Coach, Facilitator, Speaker & Trainer at Kate McEnroe Consulting
Kate McEnroe Consulting is a sole proprietorship founded in 1993 as a full-service location selection and economic development consulting firm. Ms. McEnroe's MBA from The Wharton School and background in staff and line management positions gave her a solid foundation and the skills to become an entrepreneur with a successful consulting practice.
She focuses on the geographic and market positioning strategies and tactics that support the aspirations of companies, communities, and individuals. By sharing direct insights and offering flexible approaches, Kate ensures that clients gain a better understanding of their strengths and their options, and that they are better equipped to take immediate and long-term action to improve their place in the world.
Over the years, her corporate clients have included leaders in the healthcare, business services, telecommunications, and metals industries along with family owned enterprises and membership associations.
She is an expert in coaching economic development organizations through a process of designing high impact business cases for workforce assets, optimizing marketing resources, and applying data visualization principles to the task of marketing places. She is currently utilizing her expertise to create content designed for students, parents, and their advisors that will enable them to make effective education and career choices.
Kate believes in the power of continually learning and has completed training with David McCandless, Edward Tufte, Anne K. Emery and Stephanie Evergreen of the Evergreen Academy in data visualization. She is a certified Strategic Doing Facilitator and credentialed to administer Human Insight's AEM Cube Team Dynamics Assessment and the MARI Mandala Assessment Research Instrument. She has a Design Thinking Foundation Certificate from IDEOU, is trained in Mindfulness Meditation and is a Narrative Coach Core Practitioner.
Jim Nichols
Co-Founderat Half Machine
Ed Riggins, SIOR, CCIM
Senior Vice President at Cresa
Ed Riggins has been one of the most significant and consistent contributors to the success of the Cresa Atlanta office since moving his practice to the firm in 2000. Ed provides real estate advisory services in Atlanta and nationally to organizations ranging in size from start-up professional partnerships to Fortune 500 companies. Because of the diversity of Ed's clientele, he might be found working on an office space assignment on Monday, a transaction involving industrial or manufacturing space mid-week, and acquiring or disposing of land by weeks-end. Ed's approach involves careful development of a plan based on a clear understanding of client needs. After that, it's: "problem, solution, problem, solution" until the assignment is completed, always with an eye toward what's best for the client. Ed receives consistently high marks in client satisfaction surveys, and the majority of his assignments come from repeat clients or referrals. Ed teaches real estate continuing education, speaks to business groups, and mentors young associates in the industry. Ed assisted in the creation of Cresa's Community Service Committee and is an active participant in the committee's activities throughout the year. Ed is among less than 1% nationally to have earned both the Society of Industrial and Office Realtors and Certified Commercial Investment Member designations.
Gray Swoope
President & Chief Executive, Vision First Advisors
A recognized leader in economic development, Gray Swoope has served both the public and privat sectors for more than three decades most recently as Florida's Secretary of Commerce. He has held leadership roles for a variety of organizations, as well as managed successful economic development entities. His management style is described as focusedand steadfast when it comes to solving problems and win ning competitive projects. Swoope is also known for building highly effective teams noted for their ability to devise and implement strategic plans, and to get results. His expertise is international in scope, with a proven track record of successfully conducting business abroad.
Swoope served in Governor Rick Scott's administration (2011-2015) as Florida's Secretary of Commerce and President & CEO of its principal economic development organization, Enterprise Florida, Inc. Under his leadership, Enterprise Florida completed a record fiscal year in 2013-14, and increased competitive projects by 40%, resulting in 73% more new jobs and 95% more capital investment in the state than in 2011.
During Swoope's tenure, Florida announced competitive project wins involving dozens of leading companies including Amazon, Bristol-Myers Squibb, Deutsche Bank, Embraer, GE, Hertz, Navy Federal Credit Union, Northrop Grumman, USAA, United Technology Corporation and Verizon. Since 2011 and in only 3 years, more than 728,000 private-sector jobs were added in Florida, surpassing Governor Scott's goal of creating 700,000 private-sector jobs over 7 years.