Back to Events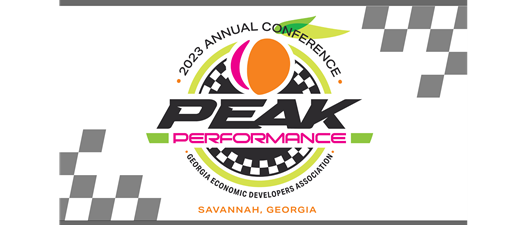 GEDA 2023 Annual Conference
Wednesday, September 20, 2023
at
1:00 PM (EDT)
to Friday, September 22, 2023 at 12:00 PM (EDT)
Event Details
Registration is now open for 2023 GEDA Annual Conference!
Please join us in Savannah on Wednesday, September 20th through Friday, September 22nd for our Annual Conference. Our event takes place at The Hyatt Regency Savannah. We have a great program lineup along with fun networking events and optional activities this year. More program details coming soon!
---
EVENT PRICING
Early Bird Pricing Ends Friday, August 18th! See One-Day and Two-Day event pricing in event registration.
---
STAYING IN SAVANNAH
The GEDA Room block at the Hyatt Regency is sold out. Please use the link below to book nearby at the Hilton Garden Inn or Hotel Indigo. Rooms are $189 per night.
BOOK ROOM AT HILTON GARDEN INN
---
THURSDAY OPTIONAL ACTIVITIES
See below for activity options for Thursday, September 21st. Tickets can be added in event registration.
Pickleball ($25) - **NEW** at the Savannah Yacht Club
GPA Ports Tour ($30)
Sporting Clays ($110)
Savannah Food Tour ($80) - SOLD OUT
Golf Tournament ($150) - SOLD OUT
---
Thank You to Our Generous Sponsors!
Champion Circle Sponsors
Winners Circle Sponsors
SCHEDULE OF EVENTS
Wednesday September 20th
10:00am-5:00pm Registration
1:00pm-2:45pm Opening and General Sessions
2:45pm-3:15pm Break with Sponsors
3:30pm-4:30pm General Session
5:30pm-7:00pm Welcome Reception
Thursday September 21st
7:00am-12:00pm Registration
7:00am-8:30am Breakfast
8:15am-10:00am Opening Remarks and General Sessions
10:00am-10:30am Break with Sponsors
10:30am-11:45am General Session
12:00pm-5:00pm Thursday Afternoon Activities (Optional)
6:00pm-7:00pm Cocktails & Conversations
Friday September 22nd
7:00am-11:00am Registration
7:00am-8:30am Breakfast
8:00am-10:15am Opening Remarks and General Sessions
10:15am-10:45am Break with Sponsors
10:45am-11:45am General Session and Closing Statements
---
SPONSORSHIPS
**Exhibit space is currently SOLD OUT, please click the sponsorship opportunities below to view current availability**
SPONSORSHIP & EXHIBITOR OPPORTUNITIES
Contact Cecilia Arango, Sponsorship Chair at arango.c@tandh.com for more information!
---
PRESENTING SPONSOR
---

---
PLATINUM SPONSORS
---
GOLD SPONSORS
---
A GEDA website account is required to register for GEDA events:
New Guests & Members - Initial account setup may require email verification according to our digital security protocols. Please check your spam/junk folder for this e-mail
If you account needs admin approval, you will not be able to register until this approval is completed. Please allow 1 business day for this approval, if needed.
LOOKING TO BECOME A MEMBER?
Click HERE to Join GEDA
NOT READY TO BECOME A MEMBER?
Click HERE to create a Non-Member / Guest Account Before Registering
---
The Legal Stuff:

Consent to Use of Photographic Images
Registration and attendance at, or participation in, GEDA meetings and other activities constitutes an agreement by the registrant to GEDA's use and distribution (now and in the future) of the registrant or attendee's image or voice in photographs, videotapes, electronic reproductions and audiotapes of such events and activities.
---
Liability Waiver
Waiver and Release of Liability – Please Read Carefully
I acknowledge that I am voluntarily participating in an optional activity that has inherent risks, dangers and hazards, and my participation in such activities and/or use of equipment is voluntary.
I, on behalf of myself, my personal representatives and my heirs, hereby voluntarily agree to release, waive, discharge, and hold harmless the Georgia Economic Developers Association (GEDA) officers, board of directors, committee chairs, members, and employees from any and all claims, actions or losses for bodily injury, property damage, or wrongful death.
I HAVE READ THE ABOVE WAIVER AND RELEASE, AND BY SIGNING IT AGREE IT IS MY INTENTION TO EXEMPT THE GEORGIA ECONOMIC DEVELOPERS ASSOCIATION (GEDA) OFFICERS, BOARD OF DIRECTORS, COMMITTEE CHAIRS, MEMBERS AND EMPLOYEES FROM LIABILITY FOR PERSONAL INJURY, PROPERTY DAMAGE OR WRONGFUL DEATH.
Please check the box as part of your registration.
---
Cancellation, Refund, & No-Show Policy

A registrant who does not submit a written cancellation, or attend the Annual Conference, is considered a "No-Show." No-Shows are not eligible for refunds or credits, and are still liable for outstanding balances. Those who are ill and have a doctor's excuse or a death in the family will be excused.
Substitutions will be accepted at any time.
There will be no refunds or credits for cancellations after the close of business (5:00 pm) seven days prior the event.
All cancellation requests must be received in writing (email or hard copy) and must be received by the stated cancellation deadline.
Refund requests must include the name of the attendee.
When possible, refunds will be credited back to the original credit card used for payment.
For those who have registered and choose the bill me or pay by check option, you are still subject to the refund policy.