Back to Events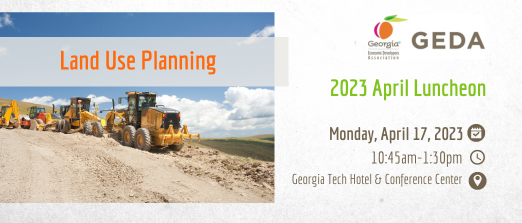 GEDA 2023 April Monthly Meeting
Land Use Planning Panel at the Georgia Tech Hotel & Conference Center
Monday, April 17, 2023
Event Details
Land Use Planning Panel
Please join GEDA on Monday, April 17th, 2023 at Georgia Tech Hotel & Conference Center.
---
Alton Brown, Jr.

Principal - Resource & Land Consultants

Alton Brown, Jr. is a Savannah, Georgia native and graduate of the University of Georgia Warnell School of Forest Resources. His professional career has focused on environmental consulting. From 1997 thru 2007, he served as project manager and principal for two environmental consulting firms and managed projects in South Carolina, Georgia, Florida and Alabama.

In 2007, Alton co-founded Resource & Land Consultants (RLC) which is a natural resources consulting firm focusing on wetland regulation compliance and permitting. Alton has and continues to participate in the development and management of both freshwater and tidal mitigation banks in Georgia and South Carolina.
---
Leon Davenport, P.E.

Thunderbolt Consultants, LLC

Leon Davenport, has served as a public sector Professional Engineer in Tennessee and Georgia for more than 25 years. From 2014 to 2019, Leon served as the County Engineer for Chatham County where he managed all facets of construction projections including the construction of the New Memorial Stadium, the renovation of Unit 5 at the Chatham County Detention Center, design and construction of the west side police precinct and more than $250 million in transportation projects through Chatham County's Special Purpose Local Option Sales Tax (SPLOST). Well versed in the regulations of the Georgia Department of Transportation, local government, and private development.
---
Lamar Paris

Union County - Commissioner's Office

Lamar Paris is in his sixth term as Sole Commissioner of Union County. He was a real estate developer and owner of Paris Finance Co. Inc. prior to his election to office. The lifelong Union County resident graduated from Union County High School and graduated from the University of Georgia with a BBA in Management Information Systems in 1972. Paris was chairman of the Union County Recreation Board for 10 years during which time Butternut Creek Golf Course was expanded from 9 to 18 holes, and Meeks Park, a multi-use recreation complex, was developed. Paris remains supportive and active in their operation and improvement as Commissioner.
---
Corinne Thornton

Georgia Department of

Community Affairs

(Moderator)

Corinne Thornton directs the Office of Regional Services for the Georgia Department of Community Affairs.


Prior to joining DCA, Corinne held positions in historic preservation and fundraising and development for preservation-related non-profits. A longtime resident of Georgia, Corinne has an undergraduate degree in Art History from New College of Florida and a Master's in Historic Preservation from the University of Georgia. Corinne lives in LaGrange, GA with her husband Jim and their four dogs.
Thank you to our Sponsor
---
Agenda
April 17
10:45 AM - 12:00 PM

Registration & Networking

12:00 PM - 1:30 PM

Luncheon & Program
For More Event Information:
---
Cancellation, Refund, & No-Show Policy

A registrant who does not submit a written cancellation, or attend the event, is considered a "No-Show." No-Shows are not eligible for refunds or credits, and are still liable for outstanding balances. Those who are ill and have a doctor's excuse or a death in the family will be excused.
Substitutions will be accepted at any time.
There will be no refunds or credits for cancellations after the close of business (5:00 pm) seven days prior the event.
All cancellation requests must be received in writing (email or hard copy) and must be received by the stated cancellation deadline.
Refund requests must include the name of the attendee.
When possible, refunds will be credited back to the original credit card used for payment.
For those who have registered and choose the bill me or pay by check option, you are still subject to the refund policy.