Back to Events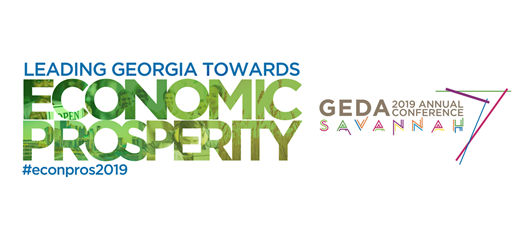 GEDA 2019 Annual Conference
Registration is now open.
Wednesday, September 18, 2019
to Friday, September 20, 2019
* Registration open until 9/9/19 at 5:00 PM ()
Event Details
Online Registration Closes at 5:00pm on September 9, 2019. Walk-up Registrations will be available.
Hotel Reservation Information:
The Room Block is closed.
Detailed Schedule of Events:
Look to the right for the button called "Download Agenda"
The list of speakers and bios click here.
Or, you can download the app by clicking here, https://my.yapp.us/GEDAAC19
GEDA Professional Development Grants
For information and an application to apply for grants related to the Annual Conference click here.
Optional Thursday Activities:
Gulfstream Facility Tour:
This will be a 2 hour tour of the facility You will leave the hotel at 12:30 and arrive at the facility by 1:00 for the tour. You will have a boxed lunch for your consumption on the bus to the Facility. You will return at around 3:30 p.m. Price: $39.00
Savannah Taste Experence - First Squares Food Tour: - Sold Out
WHEN: 1:00pm on September 19, 2019
WHAT'S INCLUDED: All tastings – enough for lunch – and a fun-filled informative walk through some of Savannah's Historic Squares.
WHO: All ages and fitness levels welcome.
CAPACITY: We keep our tour sizes to an intimate 14 persons.
WEAR: Comfortable shoes. Comfortable clothes.
WEATHER: Rain or shine we dine!
WHERE: We begin on Ellis Square. More details will be provided soon
Price: $70.00
Golf at The Club at Savannah Harbor:
Boxed lunch will be provided. Shotgun start at 12:30. Price: $105.00
Sporting Clays at Dorchester Shooting Preserve:
Lunch will be provided. You must provide your own transportation to and from Dorchester. Price: $100.00
2019 Annual Conference Cornhole Team Registration
This event will be held at the Annual Conference Welcome Reception on Wednesday, September 18, 2019. Teams must arrive at the Harbor Lawn no later than 5:15 pm to participate. There are a max of 2 members per team. You must give the names of both team members when you register.
Volunteer Opportunities:
Sign up to volunteer by clicking here, https://www.signupgenius.com/go/60B0E4FABAF28A5F58-annual1.
Restaurants in Savannah, GA:
https://www.visitsavannah.com/food-drink#Profile%20Grid
Sponsorship Information:
To learn about and purchse sponsorships click the link. To view the benefits of each sponsorship click View next to each sponsorship.
https://www.geda.org/products/sponsorships
Download Agenda
Thank you to our presenting sponsor:

Thank You to all of our generous sponsors:
Click here to see the sponsor list.
Consent to Use of Photographic Images:
Registration and attendance at, or participation in, GEDA meetings and other activities constitutes and agreement by the registrant to GEDA's use and distribution (now and in the future) of the registrant or attendee's image or voice in photographs, videotapes, electronic reproductions and audiotapes of such events and activities.
Cancellation and Refund Policy:
A registrant who does not submit a written cancellation, or attend the Spring Workshop, is considered a "No Show." No-Shows are not eligible for refunds or credits, and are still liable for outstanding balances.
Those who are ill and have a doctor's excuse or have a death in the family will be excused.
The last day to receive a refund of registration fees paid is the close of business (5:00 p.m.) seven days before the Spring Workshop begins.
Substitutions will be accepted at any time.
All cancellation requests must be received in writing (email or hard copy) and must be received by the stated cancellation deadline.
Refund requests must include the name of the attendee.
When possible, refunds will be credited back to the original credit card used for payment.
For those who have registered and choose the "bill me" or "pay by check" option, they are still subject to the refund policy.
Liability Waiver:
Waiver and Release of Liability – Please Read Carefully
I acknowledge that I am voluntarily participating in an optional, outdoor recreational activity that has inherent risks, dangers and hazards, and my participation in such activities and/or use of equipment is voluntary.
I, on behalf of myself, my personal representatives and my heirs, hereby voluntarily agree to release, waive, discharge, and hold harmless the Georgia Economic Developers Association (GEDA) officers, board of directors, committee chairs, members, and employees from any and all claims, actions or losses for bodily injury, property damage, or wrongful death.
I HAVE READ THE ABOVE WAIVER AND RELEASE, AND BY SIGNING IT AGREE IT IS MY INTENTION TO EXEMPT THE GEORGIA ECONOMIC DEVELOPERS ASSOCIATION (GEDA) OFFICERS, BOARD OF DIRECTORS, COMMITTEE CHAIRS, MEMBERS AND EMPLOYEES FROM LIABILITY FOR PERSONAL INJURY, PROPERTY DAMAGE OR WRONGFUL DEATH.
Please check the box as part of your registration.
If you have any questions about the GEDA Annual Conference please contact Kelly McLendon at 404-962-4110 or kmclendon@georgia.org.